LPN to RN Online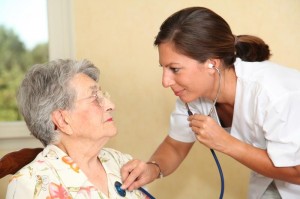 LPN to RN online programs are one way for nurses to increase their job responsibilities, salary and education. They are aimed at working LPNs who don't want to take time off to go to college or those for whom going to regular classes would present another problem. Many are available part-time, and some assume that students will be working while completing the program.
Online programs cover the same general ground as on-campus programs do. The lectures are delivered either in a written form for students to read or through video recordings available online. Students complete and turn in homework just as they would for an on-campus program. The flexible scheduling lets students work around their current job schedule and other commitments.
Where to Find the Top LPN to RN Online Programs
In order to become an RN, students need to complete a satisfactory course of study and pass the NCLEX-RN. Because each state nursing board determines which schools are acceptable it is important to check with them before enrolling. However, there are many reputable online options for going from an LPN to RN online.
The University of Arkansas Community College Batesville offers an 11-month LPN to RN online program. However, this program requires that students be local because the clinical work is done at hospitals near the college. Community college tuition is inexpensive, however, compared to many other options, and online courses at the UACCB are just $95 per semester unit.
Rue Education through Excelsior College offers a distance learning LPN to RN program. Excelsior College is largely exam-based and Rue Education offers tutoring sessions, courses, and study guides to help students prepare for the exams. The clinical portion of this exam is performed at a test site local to the student over a 3-day weekend.
Unlike many distance programs, Rue's LPN to RN online program is self-paced. Students study at their own speed and take exams when they feel like they are prepared. Each exam can be priced individually or a yearly fee may be paid that covers a given number of exams. Additional fees such as those for practice exams, the clinical nursing practicum and more may apply.
Financial Aid for LPN to RN Online Programs
Most legitimate LPN to RN online programs are eligible for federal financial aid. In addition, many states offer financial aid as well. Work-study, grants, and loans may be offered to help students fund their nursing education.
The University of Arkansas Community College Batesville offers several $1,000 to $2,500 scholarships for nursing students. In addition, they also offer scholarships for single parents, and a scholarship for non-traditional LPN to RN students over the age of 30. Online LPN to RN students who maintain a 3.0 may be eligible for a merit scholarship as well.
Rue offers one $2,500 scholarship to students beginning the RN program who already have an LPN, LVN or paramedic license. They also offer a monthly billing program to help students spread out the cost of learning. Excelsior also offers two other need-based scholarships to students pursuing the LPN to RN online ADN (Associates Degree in Nursing) option.
Additional Resource: How to Get a Nursing Degree Online